About JWC
The only monthly, international, Medline-listed, impact factor, wound care journal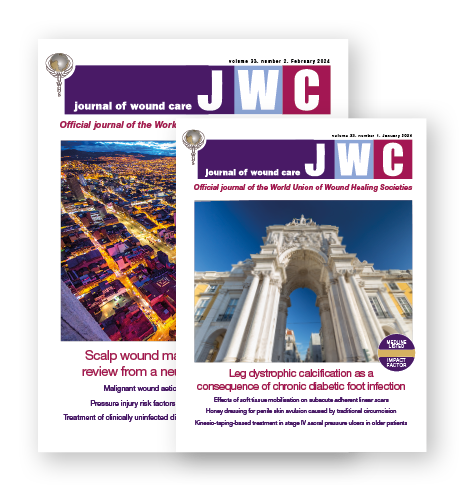 What we do
JWC is essential reading for wound care professionals who are serious about providing the best possible support for the people in their care, and those who want to keep on top of the latest thinking and research.
JWC is much more than a journal. We provide the best wound-care resources to international markets through our international supplements and sister publications. In addition, we publish a wealth of knowledge through a number of medical education projects, from case-series supplements and guides to clinical evaluations, webinars and more.
What's more, JWC hosts events and awards that bring wound care communities together.
Subscribe to JWC
Medline-listed clinical and scientific content for wound care professionals and researchers.
Personal
Personal subscriptions with a suite of great benefits
Institutional
Exclusive packages for institutes, including access to our CPD Launchpad
Much more than a journal
Our broad spectrum of media provides professionals with access to content on a variety of platforms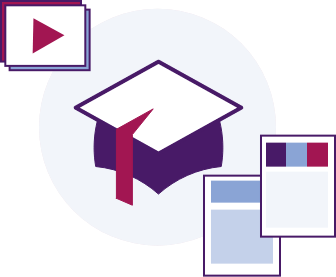 Medical education projects
We co-ordinate and develop all types of scientific content, including clinical evaluations, case-study series, consensus documents, webinars podcasts and more.
Meet our editorial board
The world's most brilliant minds in wound care support JWC and its bound-in supplements (WUWHS, North American and Silk Road), as well as its sister publications Wound Central and JWC LATAM.
Editorial board members
Prof Magnus Ågren
Adjunct Professor of Human Pathology, University of Copenhagen
Prof Jan Apelqvist
Associate Professor of Diabetes and Endocrinology, Malmö University Hospital and Lund University, Sweden
Prof Joyce Black
Associate Professor of Nursing, College of Nursing, University of Nebraska Medical Center, US
Dr Luis Alejandro Boccalatte
Head and Neck Surgeon, National Institute for Health Research, Universidad de Buenos Aires, Argentina
Prof Dr med C Can Cedidi
Klinikdirektor für Plastische, Rekonstruktive & Asthetische Chirurgie, Klinikum Bremen Mitte, Germany
Prof Rose Cooper
Professor of Microbiology, Cardiff Metropolitan University, UK
Prof Fiona Coyer
Professor of Nursing, Intensive Care Services, Royal Brisbane and Women's Hospital and the School of Nursing, Queensland University of Technology
Prof Cenk Demirdöver
Dokuz Eylül University, Faculty of Medicine Department of Plastic Reconstructive and Aesthetic Surgery and Hand Surgery, Turkey
Prof Hugh Dickson
Director of Ambulatory Care (PIXI), Liverpool Hospital, South Western Sydney Local Health District, Australia
Prof Vincent Falanga
Chairman, Department of Dermatology and Skin Care, Roger Williams Medical Center, US
Dr Leigh T Fleming
Reader in Mechanical Engineering and Director of Home Recruitment, The University of Huddersfield
Prof Amit Gefen
Professor of Biomedical Engineering, Tel Aviv University, Israel
Dr Georgina Gethin
Senior Lecturer, School of Nursing and Midwifery, National University of Ireland, Galway, Ireland
Prof Julian Guest
Director of Catalyst Health Economics Consultants, Middlesex, UK
Prof Joon Pio Hong
Department of Plastic Surgery, Asan Medical Center, University of Ulsan, Korea
Prof Andrew Jull
Associate Professor, School of Nursing Senior Research Fellow, National Institute of Health Innovations, University of Auckland, New Zealand
Dr David Keast
Centre Director, Aging Rehabilitation and Geriatric Care Research Centre, Lawson Health Research Institute, Canada
Dr Morten Kildal
Associate Professor, Akademiska Sjukhuset, Sweden
Brenda King MBE
Clinical Nurse Specialist, Tissue Viability, Sheffield Primary Care Trust, UK
Prof Jan Kottner
Charité Center for Health and Human Sciences, Charité-Universitätsmedizin Berlin, Germany
Prof David Leaper
Emeritus Professor of Surgery, University of Newcastle upon Tyne, UK, Emeritus Professor of Clinical Sciences, University of Huddersfield, UK
Prof Baoge Liu
Professor and Chairman, Department of Orthopaedic Surgery, Beijing Tiantan Hospital, Capital Medical University, China
Dr Chris Manu
Consultant Lead for the Diabetic Foot Service, King's College Hospital NHS Trust, UK
Dr Michael Miller
Medical Director and Chairman, Miller Care Group, Indiana, US
Prof Christine Moffatt CBE
Professor of Clinical Nursing, University of Nottingham, UK
Prof Zena Moore CBE
Professor and Head of the School of Nursing and Midwifery, Royal College of Surgeons in Ireland, Ireland
Prof Dr Harikrishna K.R Nair
Head And Senior Consultant, Wound Care Unit, Dept. Of Internal Medicine, Hospital Kuala Lumpur, Malaysia
Prof Karen Ousey
Professor of Skin Integrity, University of Huddersfield, UK
Prof Hugo Partsch
Emeritus Professor of Dermatology, University of Vienna, Austria
Prof Declan Patton
Director of Nursing & Midwifery Research/Deputy Director of SWaT, Royal College of Surgeons of Ireland, Ireland
Dr Andrea Pokorn
Masaryk University, Faculty of Medicine, Department of Nursing, Czech Republic
Prof Marco Romanelli
Director, Wound Healing Research Unit, University of Pisa, Italy
Prof Hiromi Sanada
Professor of Nursing, University of Tokyo, Japan
Assoc Prof Kylie Sandy-Hodgetts
Director, Skin Integrity Research Institute, Centre for Molecular Medicine & Innovative Therapeutics, Murdoch University, Western Australia
Prof Nick Santamaria
Professor of Nursing Research, Translational Research, University of Melbourne & Royal Melbourne Hospital, Australia
Dr Thomas Serena
CEO and Medical Director, SerenaGroup Research Foundation, US
Prof Yusuke Shimizu
Professor and Chairman, Department of Plastic & Reconstructive Surgery, University of the Ryukus, Japan
Prof Vijay Shukla
Professor of General Surgery, Banaras Hindu University, India
Richard Simman
Plastic and Reconstructive Surgery Professor, Toledo University College of Medicine; Medical Director of wound care at Jobst vascular institute, ProMedica Health Network, Toledo, Ohio, USA
Harm Jaap Smit
Wound Biologist, Erasmus MC Academy Rotterdam, Holland
Prof Hans Smola
Professor of Dermatology, University of Cologne, Germany
Prof Colin Song
Senior Consultant Plastic Surgeon, Singapore General Hospital, Singapore
John Stephenson
Senior Lecturer in Biomedical Statistics at the University of Huddersfield
Prof Luc Téot
Associate Professor of Plastic Surgery, University Hospital of Lapeyronie, CHU Montpellier, France
Prof Dominic Upton
Deputy Dean, Faculty of Health, University of Canberra
Dr David Voegeli
Visiting Professor of Nursing, Faculty of Health & Wellbeing, University of Winchester, UK
Prof Peter Vowden
Consultant Vascular Surgeon and Professor of Wound Healing Research, Bradford Royal Infirmary, University of Bradford, UK
Prof Thomas Zgonis
Associate Professor, Fellowship Director and Chief, Division of Podiatric Medicine & Surgery, University of Texas Health Science Center, US
---
WUWHS board members
Prof Marco Romanelli
Editor-in-Chief
Afsaneh Alavi
North America
Susan Stelton
North America
Vera Lucia Conceição de Gouveia Santos
South America
Eduardo Camacho Quintero
South America
Silvana Vivacqua
South America
---
North American board members
David G. Armstrong, DPM, MD, PhD
Professor of Surgery, Director, Southern Arizona Limb Salvage Alliance (SALSA) University of Arizona College of Medicine,Tucson, AZ, US
Suzie Ehmann, DPT CWS CLT-LANA
Clinical Specialist, Rehabilitation, Carolinas HealthCare System – Stanly, Albemarle, NC, US
Paul M. Glat, MD
Chief, Section of Plastic Surgery, St. Christopher's Hospital for Children. Professor of Surgery and Pediatrics, Drexel University College of Medicine, Philadelphia, PA, US
John C. Lantis II, MD, FACS
Chief of Vascular and Endovascular Surgery and Director of Surgical Clinical Research Mt Sinai St Luke's and West Hospitals Professor of Surgery; Icahn School of Medicine New York, NY, US
Harry Penny DPM, DABPM, FAPWHc
University of Pittsburgh Medical Center Wound Center, Altoona Diplomat of American Board Podiatric Medicine, Fellow Academy of Physicians in Wound Healing Physician (APWH), US
Tania J. Phillips MD FRCPC
Professor of Dermatology Boston University School of Medicine, Boston, MA, US
Randall D. Wolcott, MD
Founder, Southwest Regional Wound Care Center 2002 Oxford Ave, Lubbock, TX 79410, US
Kevin Woo, PhD, RN, FAPWCA
Assistant Professor, Faculty of Health Sciences, Kingston, Ontario, Canada
---
Silk Road board members
Harikrishna KR Nair
Chairman, Wounds Malaysia, Head and Consultant, Wound Care Unit, Kuala Lumpur Hospital, Malaysia
Yusuke Shimizu
Professor and Chairman, Department of Plastic and Reconstructive Surgery, Graduate School of Medicine, University of the Ryukyus, Japan
Baoge Liu
Professor and Chairman, Department of Orthopaedic Surgery, Beijing Tiantan Hospital, Capital Medical University, China
Cenk Demirdöver
Professor, Faculty of Medicine, Department of Plastic Reconstructive and Aesthetic Surgery and Hand Surgery, Dokuz Eylül University, Turkey
Kylie Sandy-Hodgetts
Senior Research Fellow/Senior Lecturer, Burn Injury Research Unit, University of Western Australia, Perth, Australia
Joon Pio (Jp) Hong
Professor, Asan Medical Center University of Ulsan, Seoul, Korea
Pornprom Muangman
Professor, Department of Surgery, Faculty of Medicine Siriraj Hospital, Bangkok, Thailand
Gulnaz Tariq
President IIWCG; President, WUWHS
Xin Wang
Director of Department of Hand Surgery, Department of Plastic and Reconstructive Surgery, NingBo Sixth Hospital, China
---
JWC LATAM board members
Carmen E. Ruiz Henao
Cirujana plástica (reconstructiva). Secretaria de COMLHEI. Colombia
Carlos Segovia Donoso
Enfermero. Director Latinoamericano en Enfermería para Quemados, FEILAQ. Chile
Carol V. Serna González
MSc. Enfermera, estomaterapeuta. Programa de Posgrado en Enfermería en la Salud del Adulto (PROESA), EEUSP. Colombia y Brasil
Eduardo Camacho Quintero
Cirujano plástico, estético y reconstructivo. Centro Médico Nacional 20 de Noviembre ISSSTE. México
Gabriela Madrigal Gutiérrez
Médica cirujana. Esp. Medicina Familiar y Comunitaria. Clínica Heridas Centro Nacional de Rehabilitación. Costa Rica
Heidi Hevia Campos
MSN. Enfermera estomaterapeuta. Profesora asistente, Universidad Andrés Bello. Chile
Ingrid A. Mercedes Abreu
MD, CWSP, CSPI. Sección Quemaduras, Departamento de Cirugía Pediátrica, Hospital Pediátrico Universitario Dr Antonio Ortiz. Puerto Rico
Isabelle Aloi Timeus Salvato
Fisioterapeuta. Clínica Calidad de Vida. Centro de Cáncer del Centro médico ABC. México
Juan Manuel Nova Rodríguez
Enfermero Ostomoterapeuta. Coordinador, Clínica de Heridas HUB Los Comuneros. Director, Sanamos IPS Clínica de Heridas y Ostomias. Colombia
Juliano Teixeira Moraes
MSc, PhD. Enfermero, estomaterapeuta. Profesor, Universidad Federal de São João del-Rei. Brasil
Leticia Vallejo
RN, FNP, CWS, FCCWS, CLWT, MBS. Profesora, Universidad Ana G. Méndez. Presidenta, Puerto Rico Wound Healing Society. Puerto Rico
Lía del C. Riley
Subcoordinadora Nacional, Clínica de Heridas, CSS de Panamá. Presidenta, COMLHEI. Panamá
Lupita Lobo Cordero
MBA. Enfermera estomaterapeuta. Directora de Procura. México
Maria Angela Boccara de Paula
PhD. Profesora asistente, Universidad de Taubaté. Brasil
Maria Helena San't Ana Mandelbaum
MSc, PhD. Enfermera. Coordinadora del Posgrado en Enfermería Dermatológica de UNIVAP. Brasil
María Martha A. Zavala Aguirre
MSc. Médica cirujana y podóloga. Presidenta, AMCICHAC. México
Marvin Madrigal Chaves
MSc. Enfermero, podólogo clínico. Profesor, Universidad de Iberoamérica. Presidente, ACOHO. Costa Rica
Mônica Antar Gamba
PhD. Profesora asociada, Escola Paulista de Enfermagem, Departamento de Enfermagem em Saúde Coletiva, UNIFESP. Brasil
Nuryahan Chiu
Nutricionista y dietista. Panamá
Oscar Caicho
Enfermero. Profesor, Universidad de Especialidades Espíritu Santo. Omni Hospital, Guayaquil. Ecuador
Otilia Cruz Castañeda
Enfermera estomaterapeuta. Hospital Regional Gral. Ignacio Zaragoza ISSSTE. México
Patricia Bañuelos
PhD. Profesora, Universidad de Durango. México
Pedro Ciudad
MD, PhD. Departamento de Cirujía Plástica, Reconstructiva y Quemaduras. Hospital Nacional Arzobispo Loayza. Perú
Sandra Guerrero Gamboa
MSc, PhD. Enfermera terapeuta enterostomal. Profesora asociada, Universidad Nacional de Colombia. Colombia
Vera L.C. de Gouveia Santos
MSc, PhD. Enfermera estomaterapeuta (TiSOBEST). Profesora titular, Escuela de Enfermería, Universidade de São Paulo. Brasil
Zita Lagos
Enfermera. Doctora en Ciencias. Vicedecana, Postgrado e Investigación, Facultad de Enfermería y Obstetricia, Universidad de los Andes. Chile